We Help You Build Winning Product Strategies.
We work with founders to identify crucial first questions and define the problem. Having an idea is great but understanding who you are building this for, why they need this and how you are going to differentiate in the market will make all the difference.
If You Are a Founder Who Is
Try Our Product Strategy & Discovery Process
Over the last 10 years, we have worked with founders across different industries to help them put down a product plan. Here is why we are good at what we do : 
We do this through our time tested process. Having done this for 100s of startups, we have honed our process to cut through the clutter and get right to the problem.
Our team, built of ex-founders and analysts, have spent 1000s of hours working on different problems and perfecting their craft. We use various battle tested frameworks to approach complicated questions and articulate insights.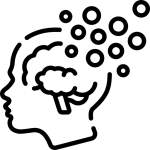 We build products for a living. Chances are we have worked in similar industries and domains. We can help you avoid pitfalls and make gains without having to waste precious time going through it again.
Oftentimes it helps to get answers from people who have seen similar problems. We use our extensive network to speak to founders from different industries and understand what approach they took and how it helped.
A lot of times startup founders end up burning a lot of money by jumping right into the solution and building features without understanding the whole picture. Our GTM & Prod Strategy process helps you avoid this by :