If you've tapped on this article about three awesome MVPs and what you can learn from them, we're sure you're already familiar with the concept of creating Minimal Viable Products. However, you may want to understand it thoroughly with the help of practical examples.
In this blog, we will look at leading companies that used MVP development to test their ideas while discussing the lessons we can learn from.
Without further ado, let's start.
1. Airbnb 
Airbnb's current website and app are completely different from the time they launched. Their first version is a solid example of MVP development done right. Let's see what made it click and what they missed. But first, a little history lesson.
The Story Behind Airbnb's MVP 
Back in 2007 before Airbnb came into existence, the company's founders Joe Gebbia and Brian Chesky were broke and were looking to raise money to pay their rent in San Francisco. 
So, they decided to rent out air mattresses in their apartment to attendees of a business conference in the city, since all the hotels were booked. They created a basic webpage with a few images of their humble abode and called their service AirBed&Breakfast. 
Here, we can consider this basic webpage to be an ideal MVP as it had only the essential features and information – a simple signup form, contact information, a search form, and a few relevant photos of the space they had created. This webpage helped them get their first three paying customers. 
After interacting with their first few customers, the duo realized the potential of their idea and how people would be willing to pay for the experience of renting people's homes instead of booking hotels. 
Then, they made similar attempts to rent air beds when their city hosted a few other major conferences, while also trying to get a hold of investors to fund their idea and make it bigger. These attempts made by them did not succeed until Paul Graham recognized the company and asked them to join his accelerator. 
That's when the co-founders changed AirBed & Breakfast's name to Airbnb, redesigned the website, and started adding properties from different owners to their website. As time passed, Airbnb's initial website turned into a famous example of a minimal viable product. 
Soon, they were able to double their income and moved to receive an investment of $600,000 in April 2009. Then, the company became a global success in no time. 
Lessons Learned from Airbnb's MVP
While MVP development helps validate your idea, you cannot solely depend on it for the growth of your business. You must look for growth opportunities instead of relying on an MVP to grow your business rapidly. 

One needs to have big ideas but invest very little in the beginning. To begin with, you should try to execute your idea with the help of minimum resources to check how people will respond to it. 

Creating a minimal viable product can help you validate various aspects of your business. While MVP development can be used to validate both an idea and a solution, your aim should be to develop it to validate an idea. That's because if you end up trying to solve a problem that doesn't exist, it won't be of any use to come up with a solution for the same. To understand it in the context of Airbnb's story, the founders were trying to understand whether people would be willing to pay to rent an air bed or not. But the MVP they created wasn't a solution to the problem. They only added extra features to their MVP after their initial idea was validated. 
2. Dropbox
Dropbox is another classic example of MVP development. This MVP emphasizes the fact that having an effective strategy is as crucial as product development. 
The Story Behind Dropbox's MV
The idea for Dropbox came into existence because the company's founder and CEO Drew Houston grew tired of taking his flash drive everywhere and mailing data to himslef to move files across different devices. 
One fine day, he forgot his flash drive at home and it irked him so much that he decided to take matter into his own hands and find a permanent solution to his storage problems while travelling. That's the day he wrote the first line of Dropbox's code.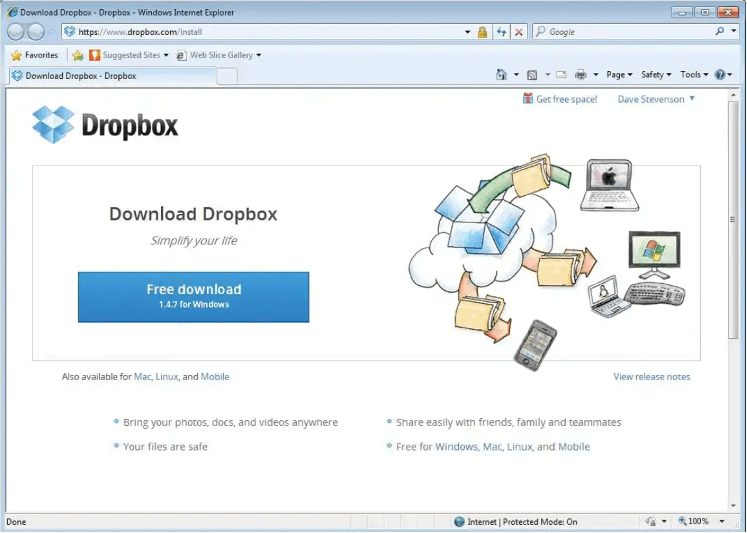 Creating Dropbox was a critical technical task, and complete implementation would've taken months, which would mean that he would be building a product that may not be used by anyone. 
He could not afford to take such a big risk on his own, so he teamed up with Arash Ferdowsi, the co-founder and Dropbox's first CTO,  to further get funding and begin testing the idea in the market. 
They managed to raise funds from some of the biggest investors and planned to attract new users by creating short demo videos demonstrating real-use cases of the product. The videos were crisp, highly informative, and topped with humor. This was done to analyze how the users would react to the videos. 
As a matter of fact, the demo videos proved to be highly beneficial in attracting customers towards the idea and helping the co-founders gain confidence that people would be willing to pay for such a concept. 
Then, in no time, Dropbox was a hit as they started adding more features to the product and turned it into the company that we know now.
Lessons Learned from Dropbox's MVP
Without a promo, even a good product is considered a bad product. It takes time and effort to help your product reach out to a broader audience. 

You should keep looking for startup ideas, as they're always around you. As you must have noticed, ideas for both Dropbox and Airbnb have been initiated from the personal experience of their respective founders . You should always try to solve problems that people experience in everyday life. 

You should always use certain demonstrative techniques such as the use of videos and photos to showcase your ideas to potential investors, users, and partners before you put money into developing a product. This should be done to gather relevant feedback and make necessary changes. 
3. Amazon
Here's why Amazon's MVP development story is a must read for every product leader.
The Story Behind Amazon's MVP 
Amazon's launch story is quite famous as Jeff Bezos started the company in 1994 with his office being his garage. He jotted down a list of around 20 items he thought people would want to pay for and buy on the internet. 
However, he only began selling books to test his theory on a basic website that he created. That's how amazon.com came into being.
Soon, people started buying books through the website and Bezos started buying the books from the respective distributors to further ship them to the receiver's address. 
In no time, amazon.com became a hit among users. As Jeff continued to increase sales, he kept enhancing the website, started adding new products to the list and managed to turn Amazon into the largest online retailer across the globe.
Lessons Learned from Amazon's MVP
You cannot build a supply chain within a day. 

In e-commerce, it's important to identify what sells.

Start with a manual process, gain the confidence that your idea can help generate money, and continue to learn to help provide your customers with a better experience. 
The Bottom Line
We hope this article has helped you gain insights from how the tech giants we know today began their MVP development journey.
If you are looking for more resources to refresh your understanding of MVP quickly, you can check out our blog for a step-by-step guide to MVP development. 
Or, if you want to immediately kick-start your minimal viable product, you can get in touch with our team to help you out! Give us a call right away!