Propel your business with smart and intelligent chatbots
Engineering impactful chatbots to upsurge businesses growth
Infusing Natural Language Processing, Deep Learning,Artificial Intelligence, and Machine Learning, we build smart and intelligent chatbots to help our clients handle tedious tasks and run day to day operations easier and smoother. Imbibed with futuristic technologies and paradigm, our chatbot solutions can reinvent the way you do business.
Integrating smart chatbots to your workflow, you can redefine the way you engage with your customers and free your team from doing tedious ad repetitive tasks, so they can focus on high-level tasks.
Enhance Customer Experience
Interact with millions of customers on social media websites and other platforms simultaneously and deliver an exceptional experience to your customers.
Chatbots broaden your reach and proactively engage with your potential customers addressing their queries and seamlessly guiding them through the sales pipeline.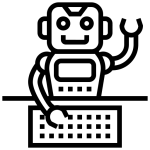 Automate Business Process
Integrating enterprise-level digital assistant chatbots with your workflow, you can automate mundane and repetitive business processes and improve your team's productivity.
We are not alone on the table who are providing the same services. There are millions, but here are three solid reasons that keep us apart from the crowd.
We build intelligent digital assistants that help your team members to execute tasks quickly and avoid doing redundant tasks. Slack is a workplace communication and team collaboration tool which allows you to extend its functionality by creating chatbots to do specific things.

Implementing the latest trends in design and development, we build smart and intelligent chatbots for Facebook Messenger that allow forward-thinking businesses to reach millions of Facebook users and deliver automated customer support, interactive experience, and guidance.
Utilizing the latest Telegram bot API, we build smart and intelligent chatbots that allow your customers to interact with your business. With its privacy-first ethos, added security, and 200+ million users, Telegram is one of the most preferred platforms for bots that process sensitive data.
Utilizing the advanced version of WhatsApp Business API helps Organizations to interact with customers directly in real-time. It verifies all business accounts, creating an authentication for your customers by providing a trusted channel between organizations and customers to communicate.
We have chatbot solutions for every vertical
On the lookout for Chatbot solutions for your business?
Our newsletter brings you product development insights and humor every week.
Join 5000+ founders.