Building an MVP  and pushing it head first into the market may be a great way to test your product and market requirements. However, without a clear-cut MVP marketing strategy, your product will not reach your targeted users or be accepted by them. Do you know why?
It's because marketing an MVP is nothing like marketing a mature product. An MVP does not have the luxury of brand recognition that could immediately put it on the radar of your potential customers. No one knows the name of your product, your company, your credentials, or how much time you've put into research and development. 
For your new MVP to become a success, you need to understand the market and win your customer's hearts. We're going to show how you can build a marketing strategy to make your MVP a success.
Let's start with the basics.
What Do You Understand by an MVP Marketing Strategy?
An MVP marketing strategy is an integral process involved in the development of an MVP. It majorly constitutes six steps that help you make the most of your project. However, before developing a solid strategy, you must understand: 
What problem you are solving. 

What solution you are offering.

And, what makes your solution unique?
Once you understand the basics you can start developing an effective MVP marketing strategy for your business.
1. Market Analysis
To begin with, you need to look for the solutions that are already available on the market for the problem that you're trying to solve. Analyse the type of products and services already available. Which of these solutions has succeeded? 
Are there any existing solutions that have failed? Is the market overcrowded with too many solutions? Do you have something new that the potential customers will be willing to buy? The primary goal of analysing the market is to come up with a useful, profitable, and unique solution. 
2. Competitor Analysis
Analyzing your competitors can fall under market analysis, but it is a highly important factor and requires attention. To go through with competitor analysis, you must get an idea of your competitors in the market. You can easily find your competitors while surfing through Google and various social media platforms. 
Once you know who your competitors are, you can compare them with your company with the use of a comparison table. While unique criteria are used for different industries, you can choose to follow basic criteria which may include: 
Company Name

Brand image

Date and year of establishment 

Logo

Company's size

Online presence 

Location 

Product or service pricing strategy 

The company's target audience 

Unique features offered 
After filling out the table, you can identify the common attributes of the companies and for gaps that can be used by you to stand apart and make a difference in the market. The objective of conducting a competitor analysis is to make improvements to your solution and make yourself competitive. 
3. Positioning
Once you're done with market and competitor analysis, you need to move ahead with positioning. Positioning is an MVP marketing strategy where the target market segment and your company's mission are identified. Here you must ask yourself the following important questions: 
What does your company do?

How do you go through with all the processes?

Who is your target audience?

What value is your product or service going to offer to your potential customers?
Answering these questions will help you gain clarity on your brand's positioning and allow you to formulate an effective plan. The positioning process will also help you formulate your business values and identify the target audience. 
Positioning is essential because it will allow your company to stand apart from your competitors, develop a solid strategy, and identify your unique market segment.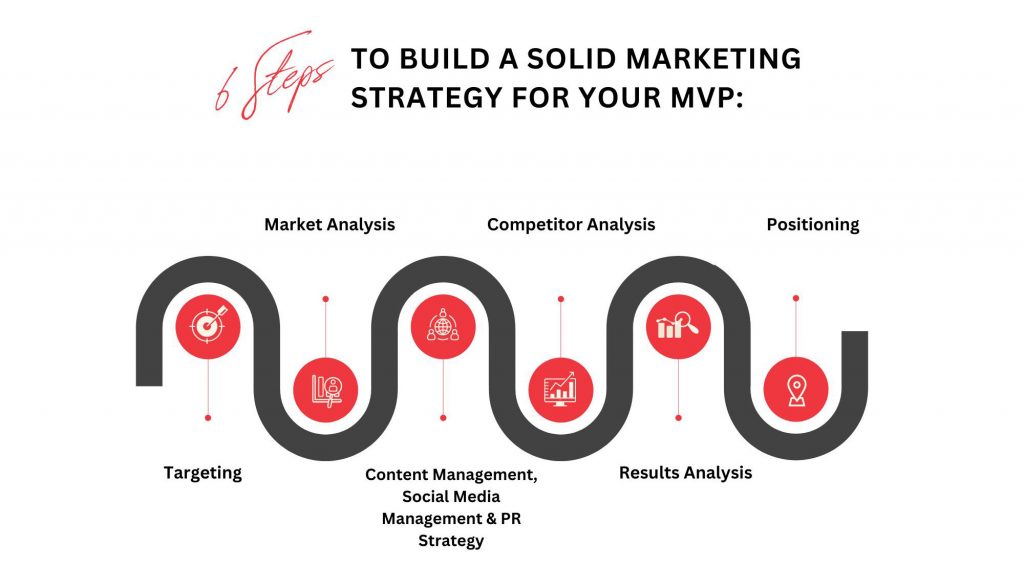 4. Targeting
Now that you have an understanding of your target market segment, it's time to work on user personas. User personas can be described as the profiles of individuals your company would like to work with. Do you want to target people with average income or high income? 
Targeting will help ensure that you understand the wants and requirements of these people. To be able to fulfill their needs, you need to understand every detail of their lifestyle. 
5. Content Management, Social Media Management, and PR Strategy
Communication holds the utmost importance regardless of the kind of medium you choose to communicate with your target audience. Whether you plan to communicate through a blog, social media, or a website, it is vital to strategize your content and how you'll be posting it. 
Where are you going to post the content? What will be your content about? How many social media platforms will you use? Who is going to manage your presence on social media? You should use a calendar to manage the content effectively. 
Social media management alongside content management will allow you to connect with potential customers who'll be familiar with your business. And you can reach out to these people by using a PR strategy. You can make use of marketing platforms available on the web or launch campaigns to reach out to your target audience. 
The purpose of SMM and content management is to ensure that you communicate with your audience regularly and effectively. Doing so ensures that you keep reminding people of your existence and attract attention. 
6. Results Analysis
Last but not least, results analysis is another vital MVP marketing strategy. Results analysis will help you determine whether your strategies have worked or not. Doing so will also allow you to make necessary improvements to your product or service. Marketing is a long-term process and you should constantly analyze the efficiency and effectiveness of your MVP. You should make amends in your MVP marketing strategy as you go about it as soon as you get an understanding of any aspect showing ineffective results. 
If you're not getting desired results from being present on a particular social media platform, try another one. Anything that doesn't reflect your goals should be changed. Moreover, you must hold meetings at regular intervals to review your strategy. Your aim should be to ensure that your MVP marketing strategy is up-to-date and relevant. 
When is the Right Time to Develop an MVP?
Usually, businesses go through the MVP marketing strategy process after developing the MVP. However, you should only start building an MVP after you've completed the market analysis, competitor analysis, positioning, and targeting. These steps of your MVP marketing strategy will affect your MVP development and will ensure that you won't have to make big changes in your MVP later. 
Final Thoughts 
In this blog, we discussed what an MVP marketing strategy is and how you should go about it. If you have developed a successful MVP marketing strategy for your business, you should consider hiring a dedicated MVP development company to ensure your plan is implemented appropriately. 
Looking to hire an MVP development company? You can count on our experienced professionals to help you throughout the process. Contact us right away!