One of a kind content marketing agency, for whom we built a portal to be able to deliver quality & relevant content to real estate agents to increase their value add.
Lighter Side of Real Estate is a first-of-its-kind company that offers fun and original marketing content for real estate agents. The company charges a small amount as the monthly subscription fee to create unlimited content in a wide range of formats. Primarily, they wanted to help agents concentrate on their core work without spending too much time on digital marketing by making content sharing easy for them via a system where contents will be written by Lighter Side and the agents can personalize them and post it on various social media.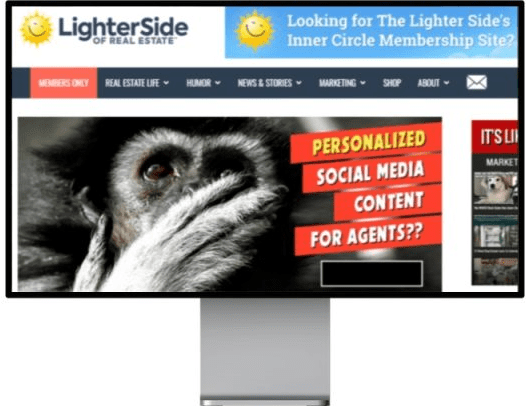 Lack of tech expertise – They did not have a reliable team with fair expertise in technology. Starting from getting the tech stack right to quality-testing and launching the product, they needed a dynamic team that is headstrong in bringing about significant technical and engineering advances.
Lack of product experience – Although they had a clear vision, they did not have the 'Product' mindset to build thriving and user-friendly solutions. Right from strategizing the product roadmap to identifying and prioritizing features, they needed a go-getter product team who would leave no stone unturned to translate their vision into a stunning solution.
Low cash runway and quick turnaround – The client was not satisfied with existing teams they had hired. They were looking for a team that would meet their budget limits and turnaround times.
Research & product roadmap:We carried out extensive market research, user journey mapping and devised a product roadmap that worked. Once we understood the difference that the light-hearted content can bring in the lives of the real estate folks, we knew what we were building.
Features, KPIs, and North Star metric:We strategized the must-have features and defined the key success metrics early at the discovery stage, and ensured that all the processes are aligned throughout the product lifecycle.
Dedicated product team:From ideation to iteration, from strategy to MVP-ing the idea, from development to deployment, GTM strategy, wireframes, user stories, rapid prototyping, etc., we worked as a dedicated product team of the client and put our engineering skills and product expertise to go hand in hand.
$7 Million USD ARR in <3 years
2000+ paid subscribers at product launch
Consistent YOY growth in top-line metrics like traffic
80000+ beneficiaries availing the free services every month
A massive 5X growth in monthly subscription by 2020
A whopping 50%+ annual customer retention